In 1941, 20 members of the Coldren Cheese Company, owned by the late C.J. Coldren, held a meeting to discuss the possibility of building a new cheese factory.
The current factory was too small to accommodate their needs, so they purchased 3/4 of an acre of land on October 15, 1941 from the late Frank Culles for the new factory site. The new factory was completed in 1942 and they created a new cooperative, naming it "Decatur Swiss Cheese Co-op."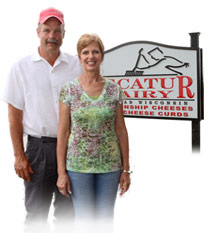 In January of 1960, Jordan Prairie Cheese Factory closed and most of the milk was sent to Decatur Swiss Cheese factory. Wilbur Klemm, formerly of the Jordan Prairie factory and John Frehner joined Decatur Swiss as Cheesemakers. In 1973, Roy Stettler and son, Mike, were hired as the new Cheesemakers.
In 1982, Steve Stettler was hired as Cheesemaker and Co-op manager for Decatur Swiss. Decatur Dairy, Inc. was created by Steve and Glennette Stettler to manufacture and sell cheese for the Co-op. In 2000, 7,200 square feet were added to the factory creating an additional make room, a new packaging room and cooler
Larger silos were added for additional milk storage and automated vats were installed in 2005 to further advance the make procedure in the factory.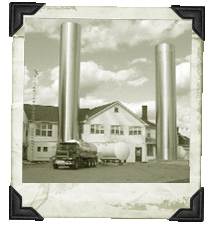 There are currently 70+ Co-op members, ranging throughout Green, Rock, and Lafayette Counties. Steve Stettler is a Wisconsin Master Cheesemaker who has developed several new cheeses for the Co-op including a European style Havarti, a Swiss-lace cheese called Stettler Swiss and a Colby-Swiss marbled cheese. Decatur Swiss also produces Muenster, Brick, Farmers Cheese, Colby Longhorn, Butterkase and Queso Blanco. Decatur has won U.S. and World Cheese Contest awards, and several Wisconsin State Fair Awards. In 2007 they swept the U.S. Contest and the Green County Fair taking 1st, 2nd and 3rd in Havarti at both contests.

Decatur Cheese Cooperative and Steve and Glennette Stettler thank you for your patronage and hope you enjoy!